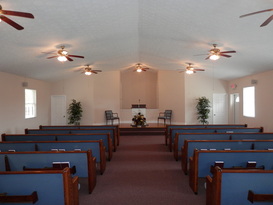 Every Sunday morning, at 10:30am, a portion of the Lord's people from the greater Cincinnati area congregate for public worship at Little Miami Primitive Baptist Church.

It's an atmosphere where Christ is exalted through simple family integrated worship involving three components: singing, preaching, and praying. By keeping true to this simple New Testament order of praise, which Christ established, we are better able to focus on His amazing grace toward us.

The songs are congregational and "a cappella", the prayers are heartfelt and genuine, and the messages are Bible-based and relevant: telling the greatness of our Lord.

To those seeking the "old paths" (Jer. 6:16) of Christ-centered worship, we bid you "Come and See!" (John 1:46).

---